Location: Germany Berlin (Science and Technology Park Adlershof)
Duration: 2 months: September 2023 – October 2023
Partners: WISTA Management GmbH
Key questions
What are barriers for behavioural changes?

 

Does awareness of mobility-related carbon emissions lead to behavioural changes?

 

What measures support people being mobile within their CO2-Mobility Budget limits?
Expected results
This Living Lab analyses if awareness of climate goals and the derived individual allowance lead to attitude and behaviour changes. It develops recommendations for measures to help overcome typical barriers to meeting individual CO2 limits.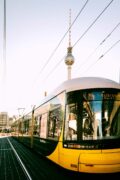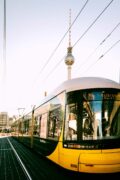 The Berlin Living Lab investigates the introduction of an Individual Mobility Budget with the emphasis on commuter mobility. Therefore, it focuses on people who commute to a science and technology park outside the city centre of Berlin.
By using an experimental approach, the Berlin Living Lab investigates the following research questions. Do commuters accept the restrictions that come with the introduction of an Individual Mobility Budget? Can information about one's personal carbon emissions trigger change in commuting behaviour?

Location of Berlin Adlershof within the Berlin metropolitan region. (Image: DLR)
As a testing ground, the Living Lab focuses on the science and technology park Berlin Adlershof. The park is well-known within the city and is home to numerous research institutes and over 1.200 businesses, including many in the media sector. The park is located outside the Berlin's urban core, about half an hour journey by train. Hence, many people commute to the location on a daily basis.
In partnership with WISTA Management GmbH, a public enterprise responsible for the science and technology park, the Living Lab recruits participants from various work places within the park. The participants take part in an initial survey, asking about their mobility behaviour and especially car usage. Subsequently, they are introduced to the concept of an Individual Mobility Budget.
The centrepiece of the research is an experiment, in which participants track their daily travel routes using a mobility tracking app 'DLR MovingLab'. The app automatically identifies the mode of transportation and logs the route accordingly. Based on mode choice, duration and distance, the app calculates participant's CO2-emissons and presents a daily report on how much of their Individual Mobility Budget is already used up.

Activation material for recruiting volunteers for the experiment. (Image: DLR)
Following this field test, the participants are invited to partake in a focus group discussion. Here, they share insights about their experiences receiving information on their CO2-mobility budget. A central objective is to gauge their acceptance of the Individual Mobility Budget concept. Furthermore, the focus group explores the possibility of potential behavioural changes in people's daily commutes, in response to the information regarding their CO2-consumption.
Focussing on commuter mobility, the Berlin Living Lab investigates the implications and possibilities of Individual Mobility Budgets in a critical transportation area with significant potential for CO2 reduction. The findings contribute to an understanding of how people can be motivated to transition from car mobility to more sustainable alternatives.
Related Basics
Next Living Labs